3.4. Master data management
3.4. Master data management
Master data is persistently needed basic data that is essential for several processes and operations. The idea behind master data is that the data processed as master data is never disputed, meaning that the entire organisation has a common understanding of what the data is about, what it contains and where it can be found. Units that need master data do not create additional copies of the data, but utilise it directly from its source.
Master data management increases the efficiency and quality of information management within the organisation. This increase in efficiency and quality is based on the accuracy of the master data – the fact that accurate data is easy to find and used throughout the organisation.
There are two types of master data in the City's organisation: the internal master data of City divisions and the City's common master data. They can be described as follows:
The internal master data of City divisions primarily serves the processes and needs of the division in question. This internal master data can be shared outside of the division if necessary, provided that there are no obstacles to sharing the data, but it is not persistently needed for the City's common processes.
The City's common master data is used for several of the City's functions.
The City's common master data is particularly relevant in terms of the City's Data Strategy, as master data makes it possible to combine information resources reliably and efficiently for different purposes. The City's master data must consist of City-level shared or open data so that it can be freely utilised internally within the City.
The Data Strategy identifies the following categories of the City's master data (see Figure 5), the systematic development of which will significantly improve the exchange and combination of data between divisions and facilitate City-level functions. City-level master data will be developed for all of these categories.
Customers. Operators that use or need the City's services, such as residents, regular visitors, tourists, companies and communities and the City's internal customers.
Interest groups. The Finnish Government, other municipalities, suppliers and partners, educational institutions, the third sector.
Organisation. Organisational structure, delegation structure, decision-making structure.
Service. The physical and digital services provided by the City.
Site. Including higher-level site categories, such as buildings, built sites, nature sites and the City's service facilities.
Personnel. Employment relationship information of the City's personnel.
Finances. Costs, accounts, budget indicators.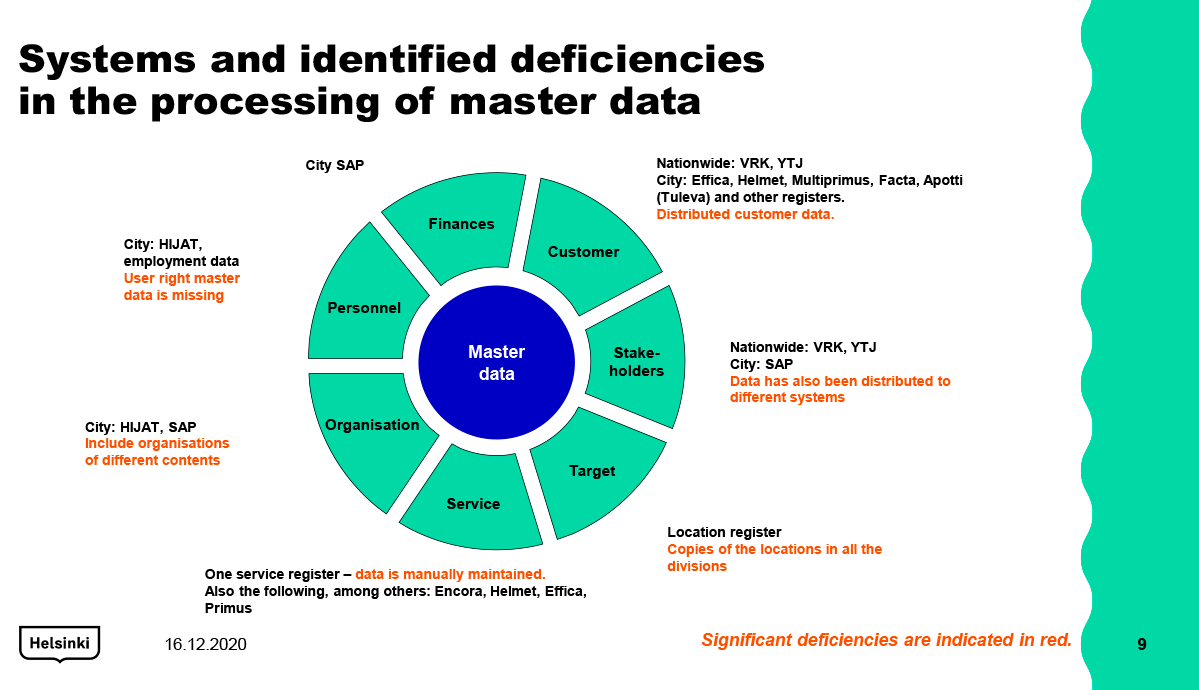 Figure 4. The identified categories of the City's common master data and the information systems that contain the master data. Notable shortcomings are marked in red.
Before master data can be made available for shared use across the City organisation, the current state of the data and systems must first be determined and a target state must be defined for each master data category. These determinations will be used as the foundation for preparing a roadmap for the development of master data management.
Luonnos